If you're lucky enough to live in Austin, Texas, you're lucky enough not to worry about severe winter weather. Except for the freeze late last year. And when a week's worth of ice shut down the entire state's power grid in 2021. Or, in all likelihood, later this year when we pay for the fact that we wore shorts on New Year's Eve.
Anyway, regardless of what the weather actually does, there are some maintenance tasks you should handle as the temperature turns colder. The good news? None of these are prohibitively expense or difficult to get done.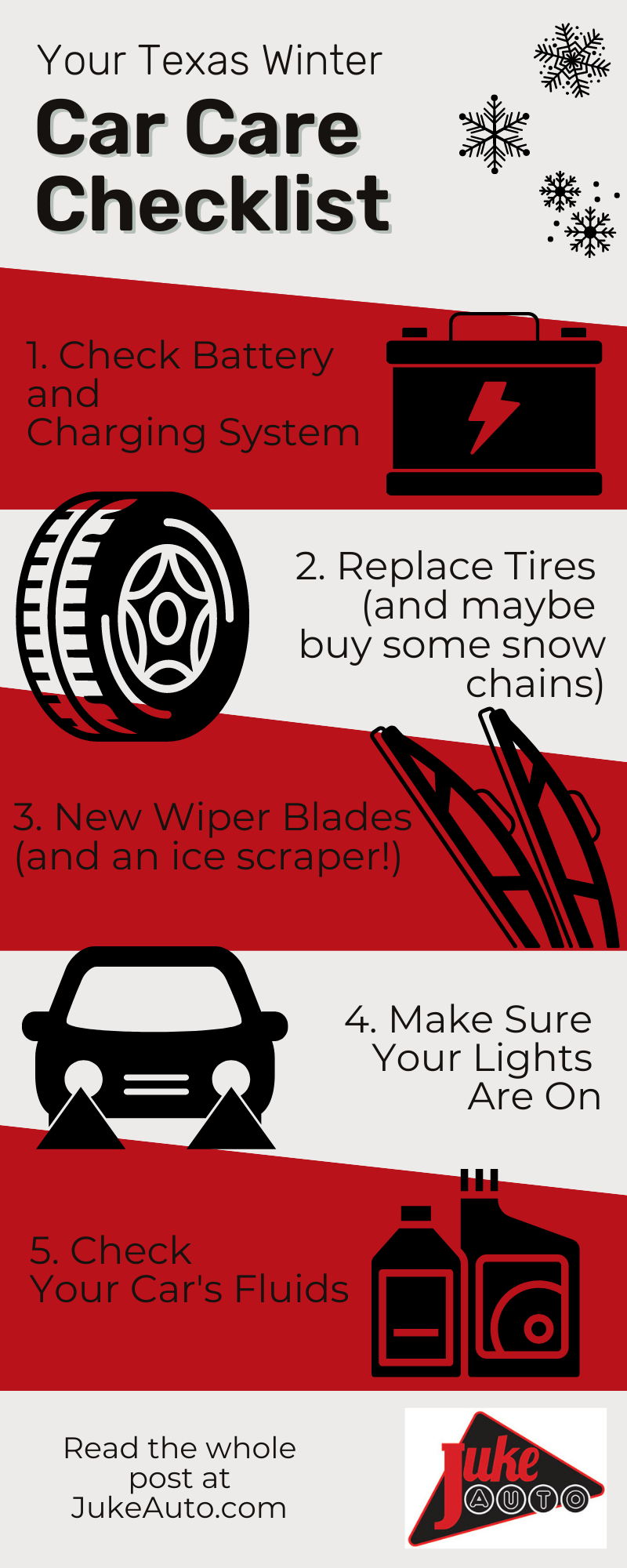 1. Battery and Charging System
As if the cold weren't enough of a hassle, did you know it also causes your car battery to drain faster? Yes, even those fancy batteries in your electric car can have the life literally sucked out of them by low temperatures.
If possible, move your car into your garage for the winter. Even a covered area can be helpful. If you don't have access to a garage, it may make sense to invest in a car cover.
You can also minimize battery usage. When you're not driving, be extra sure to turn off your lights, and unplug any chargers when not in use.
Short drives or drives with a lot of start and stop driving can also be rough on your battery. Try and take the occasional longer trip to give the alternator a chance to recharge your battery.
You'll want to be especially careful if your battery is three or more years old. It's worth having a mechanic look at your battery and charging system. The last thing you want is to be stranded in the HEB parking lot with a dead battery. That's when the grackles get ya.
Of course, the summer heat also puts a lot of strain on your battery, but we'll deal with that in a few months.
2. Be Sure Tires Are in Good Condition
No matter what time of year it is, you should replace tires that have excessive wear. You may have heard of sticking a penny in the tire tread to test the wear, but did you know the cool kids (meaning the safe ones) are doing it differently nowadays? 
The test is basically the same, only you use a Washington quarter instead. Insert the quarter into the deepest groove on the tire. If you can see the top of Washington's head, it's time for new tires. Regardless of tread depth, if your tires are several years old (more than 5), it's time for new ones.
If snow is in the forecast or you'll be traveling someplace where ice and snow are the winter norm, you might consider snow tires or chains. There is a longstanding debate as to which is better, and it really depends on your particular situation. However, chains are much cheaper, and you can install and remove them yourself.
Since cold weather can cause your tires to lose pressure, you might want a slightly higher pressure than usual. Check your owner's manual to see the recommended psi for cold weather, but it's generally between 30 to 35 psi.
Finally, this is a great time to get your alignment checked. Winter driving can be hard enough without making your car more difficult to handle. Also, neglecting your alignment can cause damage to your tires over time.
3. Check Your Vehicle's Fluids
The colder winter temperatures can wreak havoc with your car's fluids. Viscosity can change in some, and others may have a dangerously high water content. When planning your winter car maintenance, be sure your mechanic checks the following:
Transmission Fluid

Brakes fluid

Power Steering Fluid

Engine Oil

Coolant

Washer Fluid
Your exact needs will depend on your car, what kind of temperatures are expected, and various other factors.
4. Wiper Blades
Oh boy, will you ever want these babies to be in top shape! Summer can be especially rough on wiper blades in Texas between the lack of rain and relentless heat.
Going into winter, be sure your wiper blades are working correctly. That means they should clear the windshield entirely with each swipe. If you're expecting snowy conditions, you should purchase a set of winter wiper blades. These blades have a protective rubber coating that keeps them from freezing.
Speaking of wiper blades, if your car gets snowed on, don't use wipers to clear the snow from the windshield. Snow can be deceptively heavy, and you risk snapping your wipers under strain. It's also not a terrible idea to keep a spare set of wiper blades just in case. Even better? Invest in an ice scraper. They're cheap and can really save you if your windshield is coated in a sheet of ice.
5. Make Sure All Your Lights Are On
Of course, your lights need to work year-round, but in winter it's especially crucial because you won't just need them at night. You should always have your headlights on during inclement weather like rain and snow since it makes you more visible to other drivers.
You can easily check if your lights are working yourself. This is best done in the evening. Checking your headlights is quick. Pull up to a wall or another vehicle and flip them on. You can check tail lights by walking around to the back of your car. Handle your blinkers the same way; turn them on one at a time and go have a look (you're going to get those 10,000 steps in today).
Checking your own brake lights is trickier. You can lay a heavy book on your brake pedal while you walk around behind your car. Another option is to back up to a reflective surface, like another car. Depress the brake pedal and look for the reflection of your brake lights.
And because we have to say it, a blog post and a trip to YouTube don't compare to the expertise of a seasoned auto tech. While you can probably knock out a few of these tasks yourself, bringing your car to an expert is always best. We'd be happy to help you get your ride ready for the Texas winter. Contact us for an appointment, we'd love to see y'all!